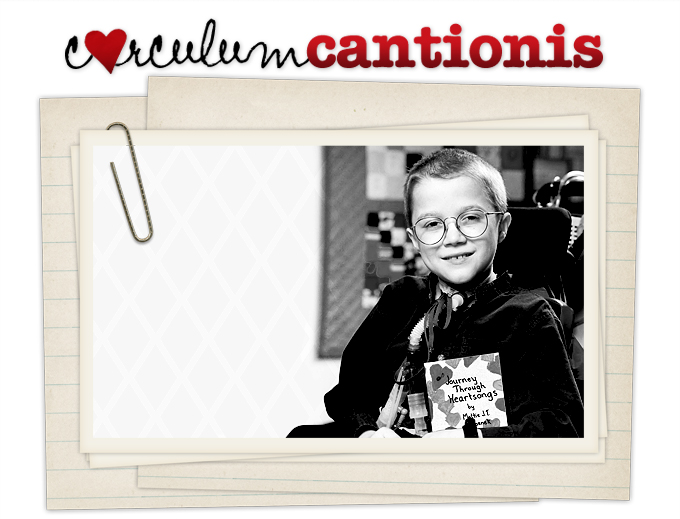 Born Matthew Joseph Thaddeus Stepanek on July 17, 1990, Mattie, as he was known to friends, family (and now the world) suffered from a rare form of Muscular Dystrophy, known as Dysautonomic Mitochondrial Myopathy. Though he was not expected to live through his first day of life, Mattie defied the odds—and not only survived, but soared.

His disease, a genetic disorder, took the lives of his two elder siblings, Katie and Steven, and presently affects Mattie's mother Jeni. The disease also claimed the life of Mattie's elder brother Jamie, who passed away when Mattie was only three.

Angry and saddened by Jamie's death, the then three-year-old Mattie, who was still learning to write, began composing poetry to express his emotions. With his mother to help tape record and write down his feelings, Mattie compiled quite a collection of poems, numbering in the thousands over the course of his young life.

Mattie's gifted intellect, heartfelt personality, and gentle kindness caught the attention of many people around him. Those who had read his inspirational works began to push for his poems to be publicized; the first time Mattie was mentioned for any sponsorship came at the tender age of six, when he was already author of hundreds of poems.

An incredibly gifted mind and a determined child, Mattie attended public school through the 4th grade. Always as active as he could possibly be, he earned a Black Belt in Tae Kwon Do, climbed trees, monitored playground activity, and attended summer camp.

When his strength inhibited his ability to attend public school, Mattie began home schooling with his mother. A fan of great literary works, including To Kill a Mockingbird and Moby Dick, Mattie studied at the high school level, and even included a few college courses in his curriculum. His precocious nature allowed him to skip the equivalent of three grades during his education.

Though Mattie shared his poetry with countless people through organizations such as the Make a Wish Foundation, official publication of his works came in July of 2001, when Hyperion Books, along with VSP Books, released his first collection, Heartsongs. The book became a bestseller, and spawned four more compilations: Journey Through Heartsongs, Hope Through Heartsongs, Celebrate Through Heartsongs, and Loving Through Heartsongs. Mattie also narrated a book on tape version of the Heartsongs series, and helped to arrange an album, Music Through Heartsongs, which featured singer Billy Gilman.

By 2001, Mattie had become a well-known figure. He realized his dream of speaking with former President Jimmy Carter in September of 2001, and met the Nobel winner in October. In November, he was featured on the Oprah Winfrey show, to speak about his book. In the tumultuous days following September 11th, he was a voice of hope and inspiration for thousands.

Over the course of the next few years, Mattie would become a spokesperson and National Ambassador for his patron cause, the Muscular Dystrophy Association; a public speaker for hundreds of children; would appear on various talk shows promoting his message of peace, and would touch the hearts of celebrities around the world, including Lance Bass, JK Rowling, and Jerry Lewis.

On June 22, 2004, Mattie passed away from complications related to his disease. His funeral was attended by thousands of people, all of whom were inspired by his works, his devotion, and his love of life. Mattie was buried at the Gate of Heaven Cemetery in Maryland, next to his three siblings.




MATTIE · DMM · HEARTSONGS · MDA · PETITION · CONTACT · THANK YOU · ABOUT · HOME